Book – Speaking of Summer is the character driven story by Kalisha Buckhanon told from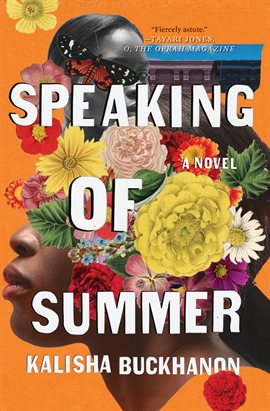 Autumn Spencer's perspective of her missing twin sister, Summer. Autumn embarks on a lonely, determined, and obsessive journey to discover the truth of what happened. We learn of the sisters' upbringing in small town Illinois and their eventual journey to New York and the unsettling reality of what happens and doesn't happen, to missing women.
When news of a serial killer who once lived in her Harlem neighborhood surfaces, Autumn delves deeper into whether Summer was one of his victims, or if she fled, wanting to leave love and loss behind her forever. Broken up into four seasons, Speaking of Summer goes by quickly if you are not paying attention. Who survives and how, are a few of the questions revealed in this intriguing tale. Despite minor and easily forgettable literary lapses, Buckhanon writes a beautiful, compelling and poignant story.
Tired of Winter? Check out Speaking of Summer on Hoopla.