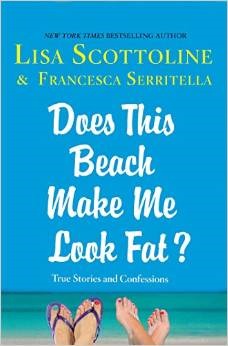 Book – Lisa Scottoline and her daughter Francesca share their witty observations and musings about the joys and trials of everyday modern life. They take on topics such as college reunions, leather loungers at the movie theater, diets, working out, family relationships, mice in the house, auctions, men and, as the title suggests, eating on the beach.
The collection of short essays kept me laughing out loud, but was also heartwarming and endearingly honest. I felt like the authors were sitting across the table from me, sharing their stories. Francesca writes "I feel like I'm the last of my friends to try two things: online dating and therapy. I think I need both. Or more specifically, I think I need one for the other. I'm just not sure in which order." as she expounds on the challenges of being newly single. Lisa shares "I joke about getting older, but the truth is, I don't feel old. On the contrary, at age fifty-nine, I feel as if I'm entering my prime. So I'm either delusional or insightful. I'll leave the choice to you. But let me make my case." in discussing the evolution of our lives.
The mother-daughter duo have written five other humor memoirs in this series. Lisa Scottoline is also the author of twenty-four novels, including her latest best-seller, Every Fifteen Minutes.