Book – Full disclosure, I suffer from attention deficit disorder so I'm always on the lookout for books that I'm actually able to finish from start to finish. I had little issue with this collection of short novellas.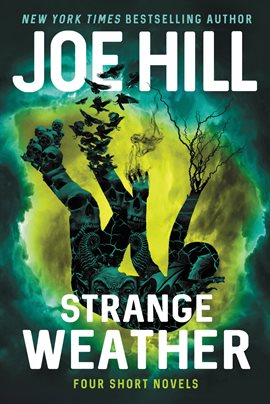 In Strange Weather, Hill presents a collection of four odd stories of varied length that entertain and disturb. In "Snapshot," a young boy faces his nightmares, the menace of dementia, the challenge that is the tattooed Phoenician, and a thug armed with a Polaroid camera. "Loaded," is an extremely relevant story with the capacity to emotionally tear you apart. "Aloft," moves us into more supernatural territory, as Aubrey Griffin's finds himself landing on a weird cloud in the sky. "Rain," is a dystopian, post-apocalyptic imagining with a terrifying and killer rain that penetrates skin. Hill's collection will please readers who are looking for a sampling of introspective horror.
If you're looking for even more creepy books by Joe Hill check out Heart-Shaped Box and NOS4A2. Hill's titles are available in print, audiobook, eAudiobook, eBook on Hoopla and Overdrive.