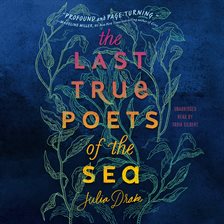 Book- Sixteen year old Violet is spending the summer in Lyric, Maine the town founded by her ancestors, following her brother's suicide attempt and struggles with her unstable, hard-partying lifestyle. While staying with her uncle and working at the local aquarium, Violet meets Orion and is attracted to his intelligence and devotion to marine life. Through Orion, Violet befriends other local teens, including Liv, whose fascination with Lyric's history is the basis for another powerful and complex relationship. While navigating her new friendships and complicated past, Violet also embarks on a mission to find the sunken Lyric, a legendary shipwreck of which Violet's great-great-great grandmother was the sole survivor.

The Last True Poets of the Sea is a re-imagining of Shakespeare's Twelfth Night, but also a coming-of-age romance and adventure story that examines identity, family dynamics and mental illness. The complex exploration of important issues makes this a young adult novel that many adults of all ages will appreciate.

The Last True Poets of the Sea is available now on eAudiobook for instant download on Hoopla.